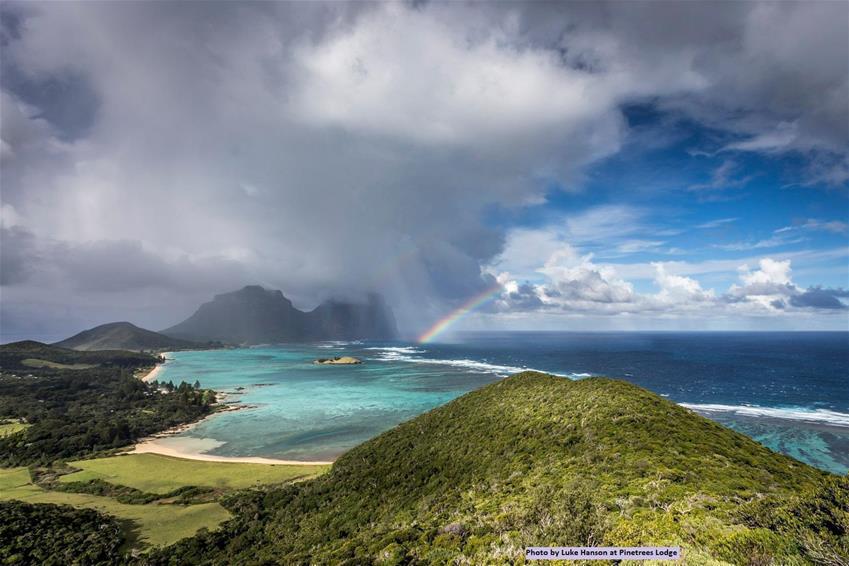 Technology has become an integral part of our lives at work, home and school. From time to time, it is good to stop, unplug and unwind! Take a browse at these 3 stunning destinations where you can get back to nature or simply indulge in the simplicity of what life has to offer!
AUSTRALIA: Pinetrees Lodge, Lord Howe Island
No TV, no mobile phone reception, no Wi-Fi
Less than 2 hours flight time from mainland Australia, you can discover the unspoilt natural beauty of Lord Howe Island. With 20 beaches, 24 km of coastline and no more than 400 guests being allowed on the island, your senses will be treated to a breathtaking escape from the hustle and bustle of city life. Pinetrees Lodge is a luxury retreat and is the perfect location to explore this island paradise whilst rewiring your soul.
If sitting watching the sunset with a cocktail in your hand is more your kind of thing then you have come to the right place. However, with a myriad of activities available you can experience a world of adventure combined with a plethora of soul enriching indulgences.
• Take the 40 min climb up to Kim's Lookout for a captivating view of the island from the top of a 200m vertical cliff. • Head over to Ned's Beach for an underwater snorkelling adventure to explore the mesmerizing beauty of the reef followed by fish feeding just of the shoreline. • Find a secluded spot on the island and arrange delivery of your own BBQ hamper courtesy of Pinetrees Lodge. • Pack a backpack and take off to explore the 8 volcanic peaks and over 45 km of exhilarating hiking tracks. • Head to the Pinetrees Luxury spa to indulge in a sumptuous organic spa treatment.
Other activities available are fishing, golf, bird watching, cooking classes, yoga, kayaking, ocean swimming, bike riding and so much more!
http://www.pinetrees.com.au/
ITALY: Eremito Hotelito Del Alma
No TV, no mobile phone reception and limited Wi-Fi
Situated in 3000 hectares of spectacular parkland in an Umbrian valley, Eremito is the perfect escape to fuel your soul, unwind and reconnect with the serenity and beauty of life. A truly mystical sanctuary offering a journey of self-discovery.
Eremito was one of the first Digital Detox hotels in Italy and to further enhance the simplicity of life here, your "Celluzze" (room) is modeled on what was once used by hermits in days gone by. A simple space for meditation and prayer with a wrought iron bed, shower, toilet and stone desk next to the window for you to take in the beauty of what mother nature has to offer.
Your homemade vegetarian diet encompasses all that this hotel strives to achieve with traditional monastic Mediterranean food fueling your body. In the chill of winter, the under-floor bedroom heating and large stone fireplace make Eremito a cosy and inviting place to relax. In the summer, the outdoor spaces showcase the serenity and beauty of this Italian haven.
Take rejuvenation to the next level in their peaceful yoga room or relax room which is dug out of rock and includes a steam bath and whirlpool tub. Eremito is not a place to indulge, it is a place of reflection and inner peace. Activities offered are yoga and meditation courses, detox, horse riding and much more.
http://www.eremito.com/en/
NORTH AMERICA: Little Palm Resort, Florida
No TV, no mobile phones allowed, limited Wi-Fi
Nestled on their own private island and accessible only by sea plane or private boat these tropical bungalows off the breathtakingly beautiful Florida Keys coastline are your own piece of paradise. As an adult only resort, you can do as much or as little as you like as you absorb the Florida sunshine and refresh your senses.
Oozing privacy and luxury with British Colonial Influences, thatched roofs and spectacular ocean views the suites offer old world charm, romance and offer the perfect antidote to the busy city life.
Savour the culinary delights of locally sourced produce whether you are absorbing the soothing sounds of the ocean or embracing the opportunity for in-room private dining.
Rejuvenate your senses in the indoor/outdoor Balinese style spa then take a trip on the tranquil sparking turquoise waters to experience a myriad of water activities, including fishing, scuba diving, snorkelling, kite surfing and dolphin encounters to name just a few.
http://www.littlepalmisland.com/