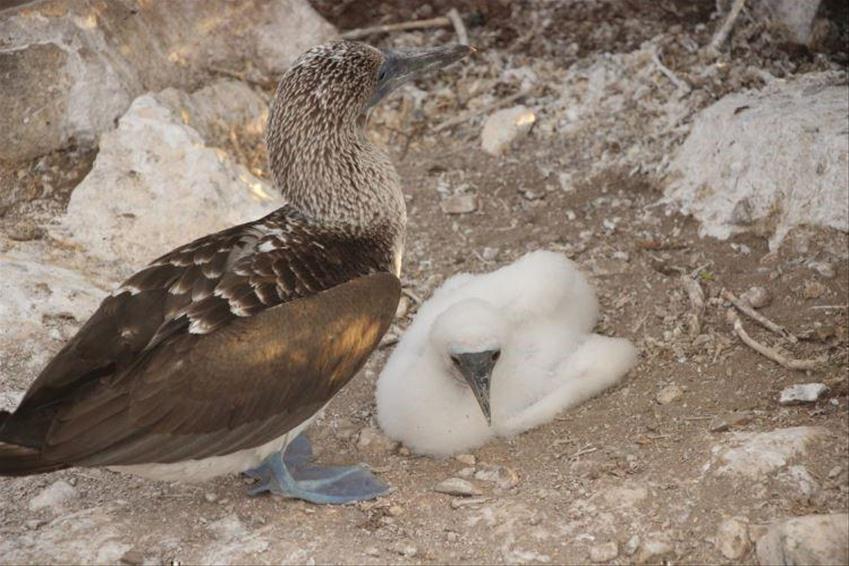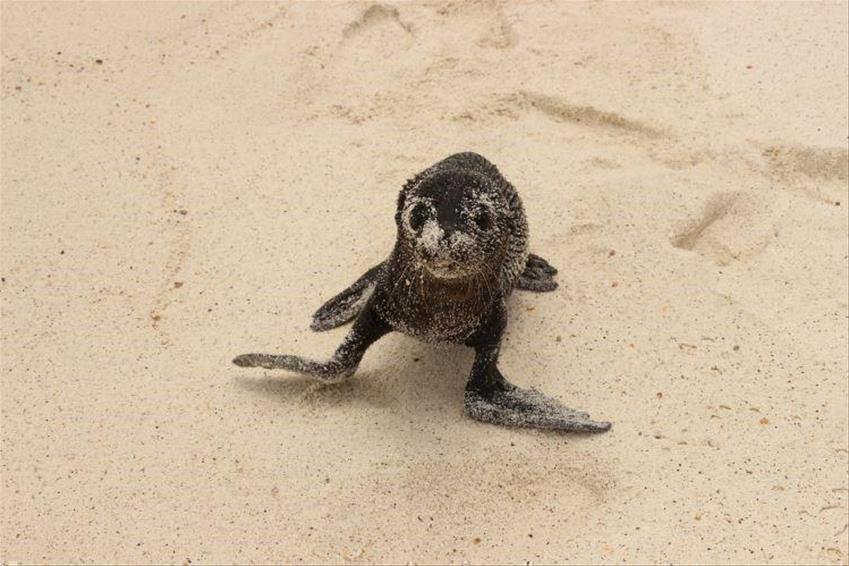 My daughter was lucky enough to experience the Galapagos Islands, with Lindblad Expeditions aboard the National Geographic Endeavour. Below is her journal of the adventure, as well as some of her favourite pictures.
Day 1: Today was the start of our adventure. We got up early in Ecuador to get on the plane to the Galapagos. On arrival at the Galapagos, we had to go to a pier to get on zodiacs to get to the boat. This pier was no normal pier…. there were sea lions everywhere! They weren't just on the stairs, they were on boats too. When we were on the zodiacs, we drove off into the distance where we could see the National Geographic Endeavour. It was very exciting being able to live on a boat for a week. While also being excited, I was also quite nervous since I have never been on a boat longer than a few hours. Just because we got on the boat that day doesn't mean we were just going to sit around and do nothing for the rest of it. After lunch, we went to a beach where we could admire different creatures, from sea lions to crabs. We were lucky enough to come across a baby sea lion who was the cutest thing ever.
Day 2: Today we woke up to a buffet of exotic fruits from South American as well as omelettes and pancakes. In the morning we, went for a walk through lava. We could see the erosion of the island from the lava flow that has turned into boulders. Near the end of the walk, we were lucky to come across a few albatross that were in there natural habitat. They were doing a hand shake with their beaks, so a beak shake. In the afternoon, I took the option of going deep water snorkelling and I didn't regret it. The coral isn't as beautiful as it is in the Great Barrier Reef, but the fish are way more amazing. I was lucky enough to have an adult sea lion come up to me and blow bubbles in my face . Day 3: Today we woke up and we were going to explore the Floreana Island in the southern region of the Galapagos Archipelago. This morning we explored the island by zodiac in search for rare and unique birds. Then we got the opportunity to either go deep water snorkelling or go on one of the many trips on the glass bottom boat. After lunch, my grandmother and I took part in an activity called paper to pearls where you create beads from paper and then make jewellery out of them. After this special opportunity to make jewellery out of paper, my grandmother and I were on one of the two trips to use the kayaks today. where we came across five penguins. It is very rare for there to be penguins in the Galapagos and for there to be five all together, and for me too, was an experience that was amazing..
Day 4: Today was a bit of a different day. We got to choose two different activities. You could either go to the Charles Darwin Research Station to learn about the tortoises or you could leave a bit later and go do some drawing with Carlyn at the fish market, who is an artist. I went with Carlyn and had a really fun and amazing experience. After the fish market, we all met up and the people who wanted to go on a bike ride left. I didn't feel like bike riding that day, so I caught the bus with my grandparents, which the boat had organised. We went to a local school, as one the passengers on board who we made pretty good friends with was actually the principal of the school. The school is a lot different to the school I go to. After this we got on another bus and went to lunch. It was very nice and I bought my mum some earrings made out of paper (the same as the paper to pearl workshop I was talking about before, but the ones I bought were made by professionals). We then got on another bus and went to a tortoise farm, where we saw a lot of tortoises. After this we really didn't do much, except after dinner we got a very nice performance from the island. I have to say that Santa Cruz was my favourite island.
Day 5: Today we went to Dragon Hill and Daphne Islet. Dragon hill is located in the centre of the Galapagos Island. I went on a zodiac trip around the island. I was one of the few lucky ones to see such a beautiful sight. Thousands of blue footed boobies and sea gulls flew in and out of the water to collect fish. It was such an amazing sight. For lunch we had an Ecuador…. a giant Ecuadorian buffet. There was a giant pig and different types of Ecuadorian foods and drinks including desserts. This evening there was a beautiful sunset and I got some really good photos.
Day 6: This morning, it was up and early for all of us. Two groups were set out to battle this challenge. Group one went up the 365 wooden steps without stopping, and group two who want to go with stops. I was one of the many fierce passengers in group one, and still to this day am so happy that I went in that group. Once we got to the top I was speechless, but then I realised that I had to climb down the hill, or should I say, the island. After the hike, we got one last chance to go deep water snorkelling and it was amazing. After lunch, we went to the top deck and we were hoping to have a chance to see to see some flamingos in the distance. This day was super lucky with us catching the glimpse of fifteen flamingos. Then we got another opportunity to go on a zodiac ride, where we saw three Galapagos hawks. I also had the opportunity to take part in a junior naturalist course, where I learnt how to drive a zodiac, and since I completed everything on the list, I received an award…. a driver's licence for zodiacs. I also got to blow the horn when we went over the equator which was very exciting.
Day 7: Today we got up bright and early, sadly for the last few hours in the Galapagos. Today we didn't do any special activities…. all we got was another very lovely breakfast. As we got on the zodiacs for the last time, I knew that I wasn't the only one going to miss the islands. It was such a great experience and being the only child made it even more special. I'm so grateful that I got this opportunity and I would do it again in a heartbeat.