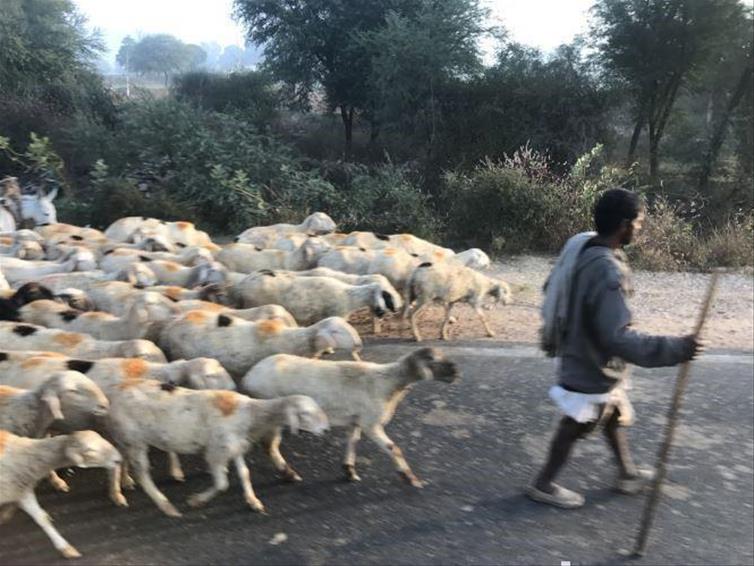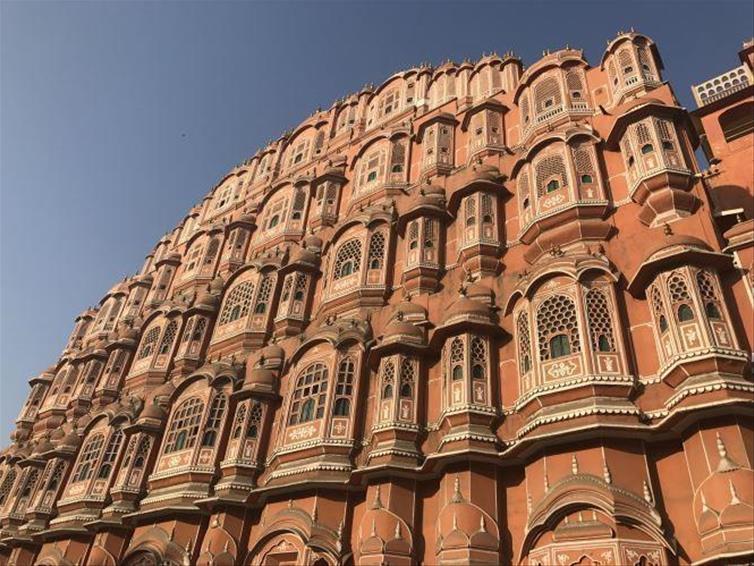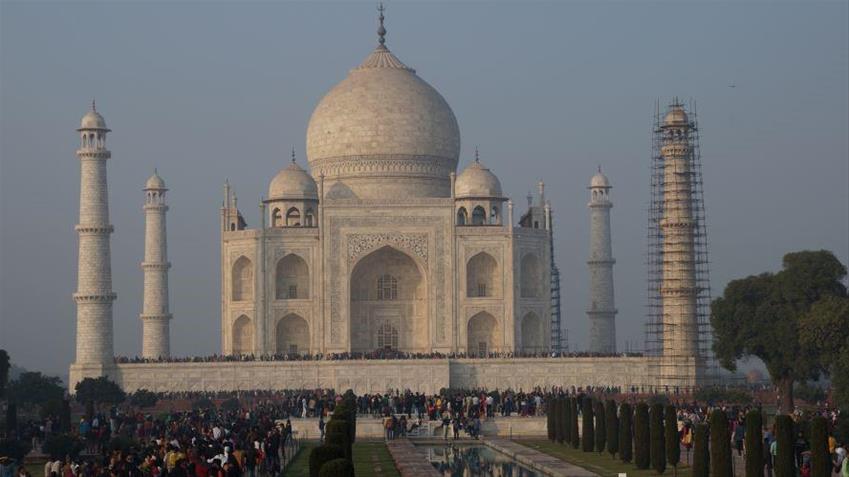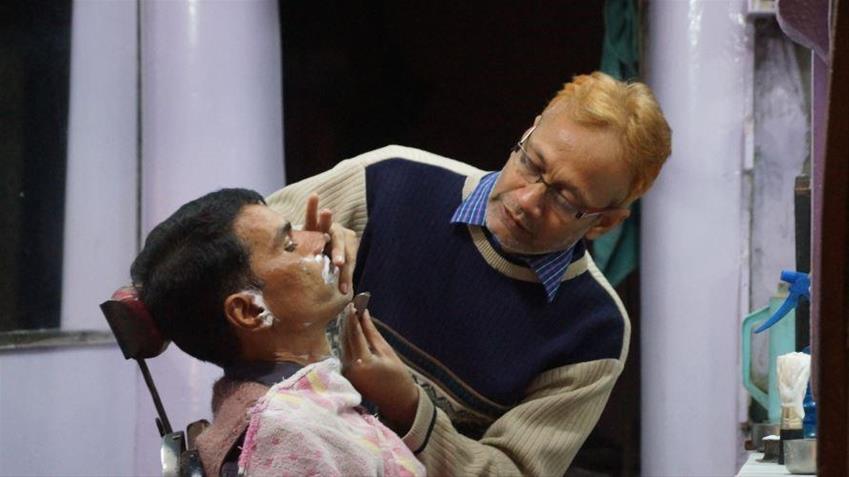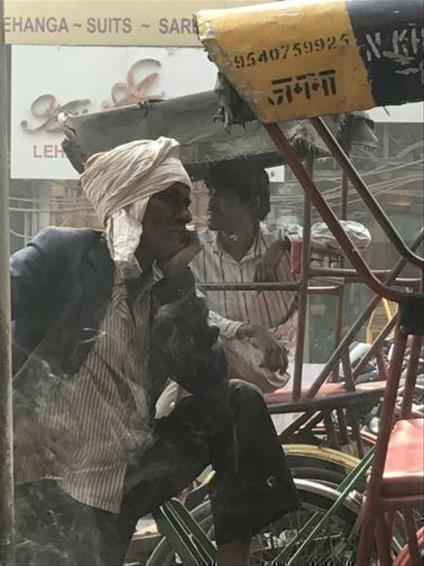 I had read that the Indian Government's decision to withdraw the 500 and 1000 rupee notes were causing some money changing issues, including the inability to purchase any in Australia. I didn't expect to have stood at the currency exchange line at Delhi Airport for about 1 hour, watching only 3 people moving with another 20 people to go. I gave up, and transferred to the Kyron hotel, where we checked in and met our Intrepid group for dinner.
WELCOME TO INDIA!
Although the room service breakfast says it doesn't start till 730am, the hotel staff tell us breakfast is downstairs. Our group dribbles down and we eat our fill, taking bananas for the journey, and we are off. On the walk to the station, within seconds our tight group has turned into a long straggly crocodile. Everywhere the mess from the night before is being swept and we arrive uneventfully emerging from a busy but pretty clean station, into the chaos of Old Delhi.
It's bright, loud, erratic. People moving in all directions - cars, buses, dogs. All overlain by the soft layer of smog. We pull over as a group between the auto rickshaws and cyclos to hear our instruction. We continue and arrive at the Jama Masjid - it looms above us. Pink towering walls, minarets, domes and stairs are all part of the largest mosque in India, built by the Moguls. Winding through the streets, we are reach a Sikh temple where we sat at the back of the hall as tourists and locals alike filing in. Next stop is the spice market, but first we must cross the road… you just do it, if you pause you get stuck. Piles of nuts, dried fruit, spices, tea, flowers and smells. We finish up at the Museum of Gandhi, located in the house where he spent his last days.
After waking to the alarm at 4:15am, we met for loading into taxis to New Delhi station - a station out of the movies except almost everyone is on a device, logged into another world. Arriving in Jaipur, we piled off the train and were whisked to our colonial mansion. Someone commented that we are straight out of the Marigold Hotel. The it was all aboard an auto rickshaw to the City Palace, from where we wandered and explored the goods for sale - tourist clothes, the auto section, spices, shoes, paper goods, saris. The peaceful garden of the hotel waited for our return, in every way but auditory.
The following day we are off to see the Wind Palace, where we all stream out for photos of this amazing structure and then onto the infamous Amber Palace and Fort. We walk the stairs, avoiding the touts, watching the elephants climb, heavy step by heavy step, intricately painted. A photo stop by the bedraggled Water Palace, and then we are dropped near the City Palace - some are going on an optional afternoon but most of us are going to explore. We choose to check out the Observatory where all types of astronomical and astrological equipment help tell the time and the time of year. We could have been in an art space. We meet the auto rickshaw driver who hassled us yesterday, and decided to take up his offer of a tour.
The next morning, it is a 6-hour trip by bus to Karauli. A small town between Jaipur and Agra. We are told no gift or tips, otherwise the locals will come to expect it. We arrive at the Maharajah's old hunting lodge…. now we really are in the Marigold Hotel. After a short time to relax in the afternoon, we are off to the City Palace by auto rickshaw. Carvings, paintings, patterns, pictures and stories rounded out with sunset on the rooftop before walking back through the village streets to our lodge.
After a nights rest we are driving to Agra via Fatehpur Sikri. With a great guide we explore the mosque, palace and fort of amazing red stone ornately carved with Persian and Hindu designs. Onwards to Agra, we once again hit the traffic and crawl through the town. Our guide at the Taj is a very busy, patient man, bombarding us with information between escorting us to the perfect photo spots.
The next morning it is off to the Agra fort, another impressive ruin. We are all pleased we didn't plan on getting up to see the Taj Mahal this morning... it was too foggy. Back on the bus it's a bumpy ride to Delhi… even the freeways have speed humps! It is our last night on the tour, before 2 extra days in Delhi on our own. We arrive at the hotel and our final dinner.
The next morning, we changed hotels to the Eros Hotel. We decided lunch should be High Tea but it is only Afternoon Tea from 3-6 pm so we head off to Qutub Minar. An amazing complex with hardly any westerners but lots of locals and Indian tourists (it is a public holiday). It is very impressive and has obviously been completely restored.
We go to Hauz Khas Village, where the young and trendy hang out on the winding narrow streets, or in funky shops, bars and cafes. A rickshaw back to the hotel this time dropped us surreptitiously outside the gates. This evening we walk up to Janpath and Connaught Place; a circle of shops that is packed with people. For the first time the majority of the population seem to be in western clothes.
Our last day in Delhi and we decide to shop and explore. We catch a train and following our map to where the material market (Shankar market) should be, we can't find it. When we ask for directions, we are told it is closed, and given directions to a better one, along with a rickshaw and driver to take us there. We have heard this story too many times on this trip so we manage to extricate ourselves from this and go back to the hustle and bustle of Old Delhi. We are getting better at auto rickshaw bargaining but again, he wants to take us around and drops us at a shop near where we want to go. Luckily he dropped us next to the Jama Masjid, so I have a sense where we are. We end up on the main drag, enjoying the hustle and bustle, avoiding the touts. In the afternoon we go to the Taj Palace Hotel for afternoon tea. Sitting outside we lounge on embroidered chairs, sipping tea from delicate china and snacking on 3 tiers of treats.
We move onto Dilli Haat. There is a payment to enter but a great array of local merchandise with a few really beautiful things, and many that look the same. Arriving back at our hotel, we find singing and dancing men in turbans of pink and red, a bejewelled man with a boy on a bejewelled white horse, explosions of rose petals and drums and drummers. A wedding arrives and I want one of those pink turbans! What a way to end our trip.