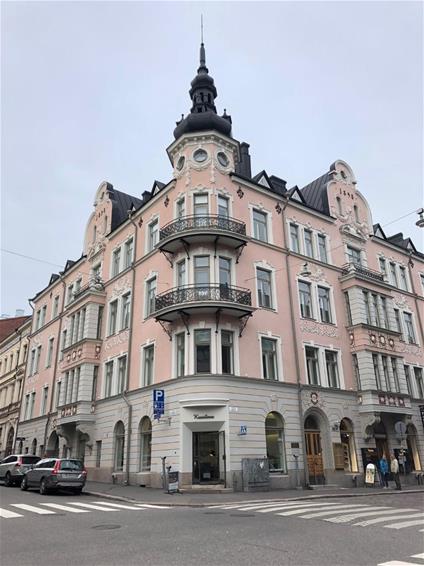 As dawn broke over a cold and wintery Helsinki morning, AY132 from Singapore quietly flew over the city and landed at Vaanta Airport, around 35 minutes from the city. The city is easily accessible by bus, train or taxi. As my flight arrived in the wee hours of the morning, I had pre-booked a taxi as I wasn't sure whether the trains or buses were running that early in the morning… but they were.
I arrived at the Hotel Glo Art, which is about a 15 minute walk to the central CBD. Whilst it was too early for me to check into my room, one of my friends arrived the night before so I was able to have a little rest before setting out to explore the city.
I was so excited to have finally made it to Scandinavia. I've have wanted to visit this region for as long as I can remember, and Helsinki was sure going to live up to my expectations.
I started off the morning with a stroll around the Winter Garden. It was a brisk 9 degrees, but the sun was shining and a great morning for a lap around the lake. So many of the trees had already shed their beautiful warm autumn coloured leaves and were making way for a chilly winter ahead. Even in the cold weather there were hordes of runners out early to keep up their fitness levels, and we even bumped into some joggers doing the Park Run.
As we meandered through the park, we passed the Museum of Contemporary Art and the Linnanmaki amusement park. All that walking deserved a coffee and a sweet treat, so we stopped in at Espresso House, mainly because it was the only thing open at 7am on a Saturday morning… I think the Finns like to sleep in on the weekends, as nothing really started to open until 10am.
What I did notice about Helsinki from the moment I arrived was the beautiful architecture of the centuries old buildings and the overall cleanliness of the city. Many of the original buildings appear to have been recently restored with a couple of magnificent buildings including Stockmann Department Store, Uspenski Cathedral , Central Station and Temppelaiukio (Rock) Church.
Another thing about Helsinki is that it is relatively flat and easy to walk around, although if your feet get sore, they do also have a good bus and tram network around the city and tickets are pretty good value especially if you get a day pass. You can also buy a "Helsinki pass" which includes travel on public transport, the Hop-on hop-off bus and free entry into many attractions. You can also pay a little extra to get the train to the airport included.
For all the shoppers out there, there are plenty of shopping malls in the city to keep you going for a few days at least. To satisfy your shopping addiction, you can try out Kamppi Centre, Kauppakeskus Centre and Galleria Esplanade.
We were also lucky enough to catch an Ice Hockey match, which was great fun. Helsinki Jokers played Riga Dynamos in the KHL. Such an exciting game but the home team ran away with it in the end.
Some of the other attractions for tourists on a short stay in Helsinki include Allas Sea Pool (clothing optional), Market Square, Suomenlinna Island and Fortress, take a walk down the Esplanade, and don't forget to have a sauna (they are everywhere).
Whilst we went to Helsinki in mid-October and it was lovely, I would probably recommend travelling in mid-September, or December if you want to feel the Christmas spirit.
We certainly packed a lot in to the 72 hours that we were in Helsinki. It's such a nice place and would definitely love to go back to spend more time in Finland. Finnair – Great flight from Singapore – Brand new A350 aircraft which was whisper quiet and had great entertainment system and food was pretty good as well - 8½ out of 10
Glo Art Hotel – value 4-star hotel, just a short walk to the centre of the city. Nice modern rooms but no fridge in the room. Great breakfast in the morning and you even get a take-away bag for a mid-morning snack. There are many restaurants, cafes and bakeries within walking distance to the hotel – 8/10
Eating - There are so many great places to eat in Helsinki. A couple of the places that we ate that I could recommend include: 1. Restaurant Jord – great fresh local produce 2. Naughty Burger – great burgers 3. Puttes Bar and Pizza – try their cricket pizza 4. Ekberg Bakery and coffee house – great coffee and afternoon snacks 5. Old Market Hall – wide variety of local produce. Great place for lunch 6. Espresso House - Scandinavia's answer to Starbucks but better
Norwegian Airlines – Great flight from Helsinki to Rovaneimi. The plane was very new, the seats were ok and 2 check-in bags allowed, which is good for a budget airline. No entertainment but only 55 minute flight. We had to communicate old style but just talking to each other. 8/10