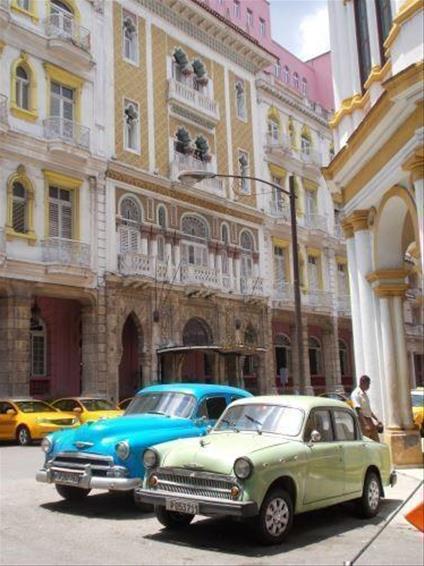 I have always been fascinated by Cuba, ever since I was a young boy, but I never really understood the political situation between Cuba & the USA and that it was all a big secret. For as long as I can remember, I have always wanted to visit, even if it was just to see the vintage chevvies and the old decaying buildings, and I wanted to go back to a time when there was no internet, mobile phone or laptop to occupy my thoughts.
Arriving very very late into Havana in the evening (thanks to our delayed flight with Aero Mexico), I felt like I was sneaking through the airport, back in time to a mysterious place. We headed to our Hotel (Sevilla) in the historic centre in the dark of night, when most Cubans were asleep, but the place had a certain vibe, that I would only come to understand as I spent more and more time in Havana. At 2am the music was still playing whilst a couple of other new arrivals sat at the bar with a Mojito and a late night snack.
The Mojito was invented in Cuba, and locals are very proud to let you know as well. Personally, I preferred the Limonata, which was a refreshing mix of sparkling water, lemon juice & sugar. You could also have a shot of Vodka or Gin thrown in for good measure, but beware all you coffee drinkers…. The coffee in Cuba is awful, so bad in fact it's better to drink tea.
In the morning after a couple hours of sleep, I was ready for my Havana adventure to begin. After a leisurely breakfast on the rooftop terrace, with sweeping views of the whole city, it was time to venture out to explore. We started to wander the streets of the old town and discovered Parque Centrale, and were drawn to the music coming from the other end of the square. As we got closer we could see loads of people dancing in the square – Salsa style. Everyone was having a great time, laughing and singing and dancing. What a great way to start the day.
Next we were off to check out the Habana Bus Tour which is similar to the big red bus in many other cities, but this one was definitely Cuba Style, but what can you expect for CUC10 (AUD13). It was a beautiful morning and not many on the bus so was able to sit up the top for a birds eye view. The T1 route takes you to the Plaza de La Revolucion, along the Malecon and through the newer areas of Havana. The commentary was in Spanish and Spanglish, and was sometimes difficult to understand because they were speaking so fast, but it was a good orientation, meandering past all of the beautifully restored and not so restored buildings.
One of the highlights in Havana for me was the Museo de la Revolucion, which took me through the journey of the Cuban Revolution, Bay of Pigs & the Cuban Missile Crisis. There were lots of stories, photos and other memorabilia and plenty of pro-Cuban propaganda thrown in for good measure, to wander through and look at and learn more about this fascinating time in Cuban history. Just outside of the museum and under very heavy guard was the Granma, the ship that began the revolution back in the 1950's, along with an array of tanks, planes and trucks from a time gone by.
The second highlight for me was the Museo Nacional de Bellas Artes de La Habana or the National museum of fine art. The thing that fascinated me was that there were no Monet's or Picasso's hanging around the galleries. Only locally produced Cuban art is on display with a large range of art from manly bygone eras. The art, just like the Cuban people are very vibrant, colourful and full of life. It was a nice way to spend a couple of hours inside out of the heat of the day. Just across from the main square was the Hotel Ingleterra, a nice place for a refreshing drink and snack, and to watch the people go by.
A couple of other must do's whilst in Havana include going for a ride in the Old American Vintage Cars (be careful as they break down… a lot), wander through the streets around Plaza Vieja (UNESCO have restored many buildings), wander down to El Capitolio and Paseo Del Prado and also take a walk along the Malecon. The hotel Nacional is an icon of Havana, with stunning views overlooking Havana and the water, it's a great place to relax and watch the sun go down.
Now everyone says that the food in Cuba is pretty ordinary by culinary standards and whilst they do try to mix it up, you are probably going to get pork, chicken or fish with beans and rice. It's the national staple, and it's hard to escape it. Even the finest restaurants will serve these dishes to some degree, with a little variation. The rooftop restaurant at the Sevilla hotel offers great view and food, but you are definitely paying for the view. If you just want an authentic Cuban meal, then try La Terazza, located on the Prado towards the Malecon. There are a whole host of reasonably priced restaurants in and around Plaza Vieja. It's also a great place for a drink and a spot of people watching, with plenty of music and dancing. Don't miss the Chocolate Café just off Plaza Vieja. There may be a queue but it's worth the wait. I am sure though that the culinary experience in Cuba is only going to get better as the country opens its doors to all visitors that will start to pour in, once the direct flights from mainland USA begin.
Now, all the stories that you hear about no mobile reception or internet are mostly true. Whilst there is wi-fi available at certain hotspots and hotels throughout the city, there appears to be a general consensus that it is unreliable and often unavailable for long periods of time due to 'technical difficulties'. At present the only thing your mobile phone is useful for is as an alarm clock.
Overall, I found Havana to be a fascinating place, full of vigour and great people who just enjoy life. The locals are extremely friendly and are happy to give you directions, even if they don't know where you want to go. Havana has a vibe, much like New York. It's hard to put your finger on it, but there is just something about it that fills you with happiness and joy. Unlike many other places in the world Havana & Cuba is a real hidden gem that is authentic and real and a great place to visit.