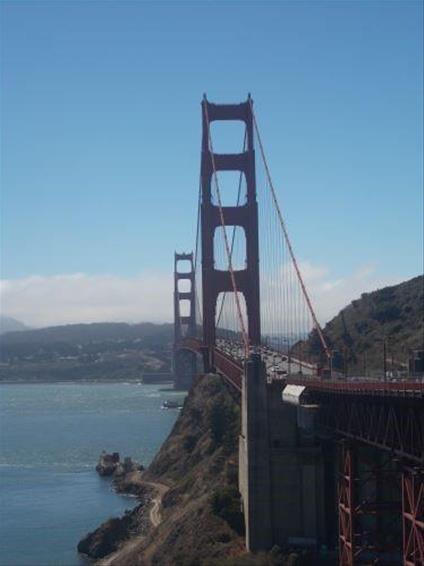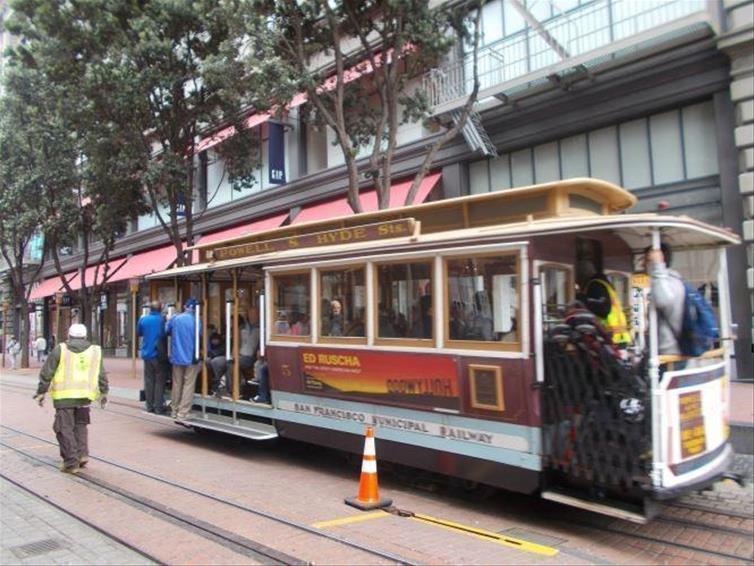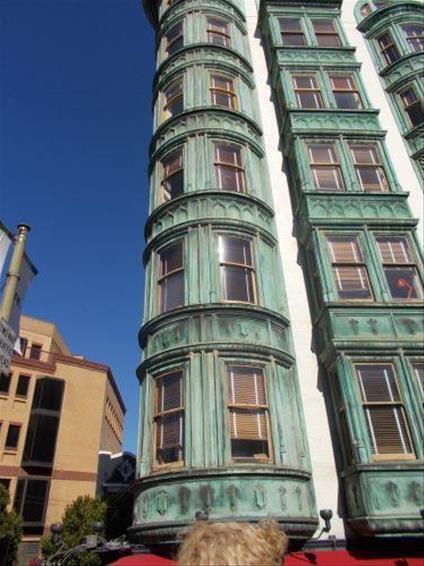 San Francisco is a beautiful bayside city with lots of charm and character with plenty to do and see, and definitely worth a look. If you have no need to stop in Los Angeles, opt for San Francisco instead. From the moment you arrive, you can soak up the ambience of the bay-city. Everything and everyone seems to be more relaxed than other cities in the US and I'm sure it has something to do with the spectacular bay that the city is built around.
Your first stop should be the Golden Gate Bridge. It sits majestically at the entrance to the Bay. There are many obligatory photo ops but I would suggest heading to the northern end of the bridge and take photos from there. It gives you the chance to get both sets of pylons in the shot. From there take the bus down to the quaint seaside town of Sausilito. Here you will find load of shops and cafes dotted along the waterfront. Drop into Sausilito Bakery & café for the freshest salads, decadent brownies and the coffee was pretty good too. Allow a good couple of hours to wander the many shops including the real Napa tasting room, Claires Attic, Cha Cha Cha and save room for a pitstop at Lappert's ice cream. I would definitely recommend heading back to San Francisco by ferry. For USD12 you get 35 minutes of scenic beauty. There is the chance to take some stunning shots of the Golden Gate Bridge, the city skyline and Alcatraz. All before docking at the famous Fisherman's Wharf Area.
There is plenty to do around Fishermans Wharf for anyone wanting to fill in an afternoon. There are many restaurants that sell their 'specialty' clam chowder, which is an institution amongst San Franciscans. Also make a stop at Boudin's bakery for your fresh artisan breads and delicious treats. They even do a gluten free pizza.
Whilst the cable cars are a San Francisco institution, their trams are pretty special as well. The city have purchased old trams from many other cities around the world and they now operate the route from Fisherman's Wharf to the Trocadero/Market Street area, so it's always a different tram trundling past. Using the trams is a much cheaper and often faster trip compared to the cable cars and is quite an interesting ride as it takes you past all the old piers that have been restored.
Some other attractions worth a look on your visit would include Alcatraz Island (you must pre-book in Summer) Lombard street ( world's most crooked street), The de Young Museum, The Exploratorium, Walt Disney Family Museum, Palace of Fine Arts & Golden Gate Park.
If you are in San Francisco at the right time of year, you can see the 49ers play NFL, The Giants play Baseball and the Golden State warriors play the Basketball. Be sure to check before you leave to see if there are any concerts or shows worth purchasing tickets. Tickets to events always sell out, so be sure to keep your eye on what's coming up.
Our favourite breakfast spot was Beach Street Grill. They served everything you could ever want for breakfast, including pancakes, waffles, French toast, bacon & eggs. They also have a huge range of gluten free options. There are plenty of good coffee options and head down to Ghirardelli Chocolate shop for some free samples or a chocolate sundae.
Accommodation in San Francisco can be pretty pricey. There are plenty of hotels to choose from 2-3 star boutique properties scattered around the city, to the 5 star deluxe properties in the financial district & Union square. Just a quick word of warning, the 2-3 star properties quite often have shared bathroom facilities, so if you do not want to share your morning rituals with others, be sure to pick a hotel room with en-suite facilities. Another thing to note about San Francisco is that they also have an energy levy that needs to be paid directly to the hotel of around USD3-5 per night. I would definitely look at staying in the Fisherman's Wharf area as it is a very central location and it easy to get to other areas of the city by Tram, Cable Car, bus or the Big Red bus has many stops throughout the city. The Fisherman's Wharf are is very flat compared to other areas of the city. We stayed at the Courtyard by Marriott Fisherman's Wharf and it was very central to all the attractions, restaurants and cafes.
Getting to the city from the airport is pretty easy and there are a number of options available. There is a train (BART) that services the airport and all stations to the city. It costs around USD10 and takes around 35 minutes. You can also use the super shuttle service at a cost of around US20 per person and they will drop you off at your hotel. Alternatively a taxi will cost around US60-70.
If you have any questions about my adventure in San Francisco, please let me know.