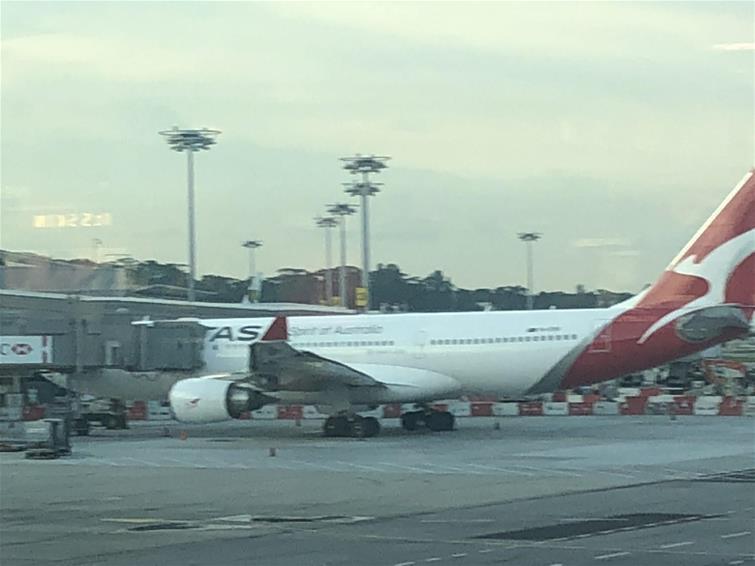 Today I flew on the Qantas A330-300 aircraft from Brisbane to Singapore. There was the usual niceties at the cabin door "welcome aboard Mr Turner, nice to have you with us again"
The first thing I noticed was that there was no premium economy seating on this aircraft, only business and economy. After a brief look at the business class lie flat bed, I wandered down to my assigned seat 48D. As the plane began to fill up, my hopes of having a spare seat next to me were dashed, but it didn't seem to matter that there was someone next to me. There seemed to be plenty of room and wasn't too squashy.
The cabin crew seemed to be very friendly and not in a forced way, the genuine spirit of Australia. Once we took off, they came around with the menu and arrival cards for Singapore and a bottle of water for everyone.
I started checking out the entertainment selection, and plenty of new release movies, old favourites and TV box sets to keep me amused for 8 hours. I was surprised at how many Australian movies were on offer, some new and some old. Over all a good selection with easy to use and very responsive seat back touch screens.
Firstly, the flights attendants came around with the pre-lunch bar service, followed with the main meal of "chicken" or "beef", although they very quickly ran out of the beef, so there were a few disgruntled beef eaters toward the back of the plane. The chicken was a salad with pumpkin and wild rice and was tasty and filling. Lunch was followed with a Weiss Bar and coffee and tea. All served with a friendly smile and some banter.
On the whole, the seats were very comfortable, and the base of the seat slid forward for more support. It's definitely a good idea to get up and have a walk around and a few stretches. Even though it was a day flight, there was the option for some ear plugs, eye masks and a mini toothbrush, although they were down in the back galley, so you either had to ask for them to get them yourself.
After watching a couple of new releases including the new Star Wars movie with Han Solo, it was time to eat again. Out afternoon snack was a choice of steamed pork buns or mushroom pizza. I went for the pork buns and they were great... would definitely recommend them.
Pretty soon after the final snack, it was time to descend into Singapore. We actually landed 35 minutes before schedule. How's that for on-time performance!
All in all, it was a great flight with Qantas today and I could fault them at all. I will definitely fly with them again and would definitely recommend them to others
If you have any questions about flying Qantas, please let me know.
Cheers, Andrew