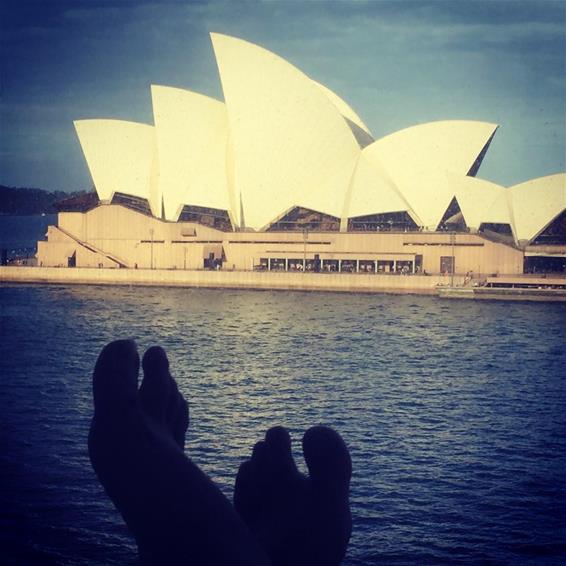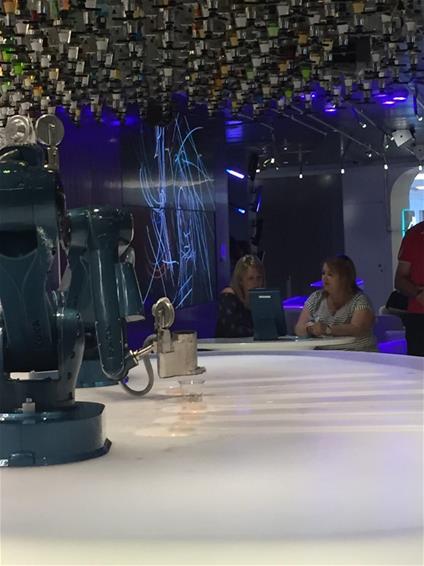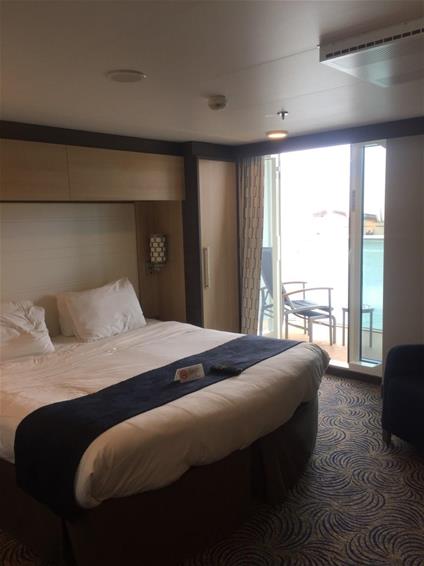 As we were flying into Sydney we got our first glimpse of this magnificent ship. The ship is so large, it almost overshadowed the beauty that is Sydney Harbour. Docked right across from the Opera House is one of the largest cruise ships in the world, and we were only minutes away from boarding the ship for our weekend away on the high seas.
After a fairly smooth and quick boarding we scanned our boarding cards and jumped on board. This is my first real cruise, so I was a bit nervous about how it would go. Would it rock? Would I get sea-sick? Would I feel claustrophobic? Well I can glad say it was a big no to all three questions. Yay!!!
The ship is only around 12 months old and everything on board still looked in pristine condition. Firstly, we headed off to the Bar270 for a quick drink whilst our cabins were being cleaned. The bar, which was at the stern of the ship had floor to ceiling windows with magnificent views of the harbor Bridge & Opera house. The bar has, funnily enough a 270-degree view.
Once we were allowed to our cabins, we headed off to have a look at the cabins and check out the rest of the ship.
I was lucky enough to have a balcony cabin with a direct view to the Opera House, so I sat and savoured the view for a few minutes. The balcony was quite spacious and a great place to sit and relax with a book to read and to nap as we sailed along. The rooms were very well appointed, modern and contemporary in design, with decent sized bathrooms. Irons are not allowed on board so if you have anything that needs ironing, just ask the cabin stewards and they will organize for you. Hair straighteners are permitted for those who really need them, but bring your own.
Time to head out to check out the enormous ship. Most of the activities are towards the top decks 14-15 & 16 and most of the shops and eateries are on level 4 & 5.
Up on the higher decks there was plenty to do including Flow rider, North star, RipCord, Dodgem Cars, Rollerskating, Basketball, Circus School, Kids splash pool, Outdoor Pool, Jogging track, shuffle board. There is also an adult only pool area – The Solarium.
There was a whole host of activities throughout the day including various trivia comps (we won one), Bingo, Napkin Folding lessons, Towel folding lessons. And there is a library to borrow a book.
There was lots of entertainment including the Pixels show, INXS & Queen revival show, Cabaret performances and movies showing at all different times of the day/night. There was always something going on, or you could just relax. The choice was yours!
There were plenty of placed to eat & drink on board
Included eateries: The Grande – Set time dining Silk – my time dining Chic – set time dining American Icon – my time dining Café Promenade Sorrentos Windjammer Marketplace – Main Buffet The café@270 Seaplex Dog House
Specialty Dining – at an additional charge: Jamies Italian, Wonderland, Chops Grille, Izumi Japanese Cuisine, Chefs Table
Bars: Schooner Bar, Vintages, Bionic Bar, Boleros, Music Hall, Bar270
There is also a decent sized casino on board with some very generous poker machines, a day spa and some high-end shops.
But, the highlight of the trip was the silent disco. If anyone hasn't been to or seen one of these in action, you are really missing out.
There were a very wide range of age groups on board the ship. From singles, families, the young at heart, and many birthdays and other celebrations on board. We even had a full wedding with 100 guests... all having a great time!
All in all, I really enjoyed my first experience on a cruise ship. We all wished it went a little bit longer, but we definitely got a taste of how cruising works, and picked up plenty of hints and tips for my next cruise. If you haven't cruised before, these short 3 night trips are a great way to experience life on board a cruise. You will definitely work out if cruising is for you or not.
I hope you enjoy the photos.
Cheers, Andrew