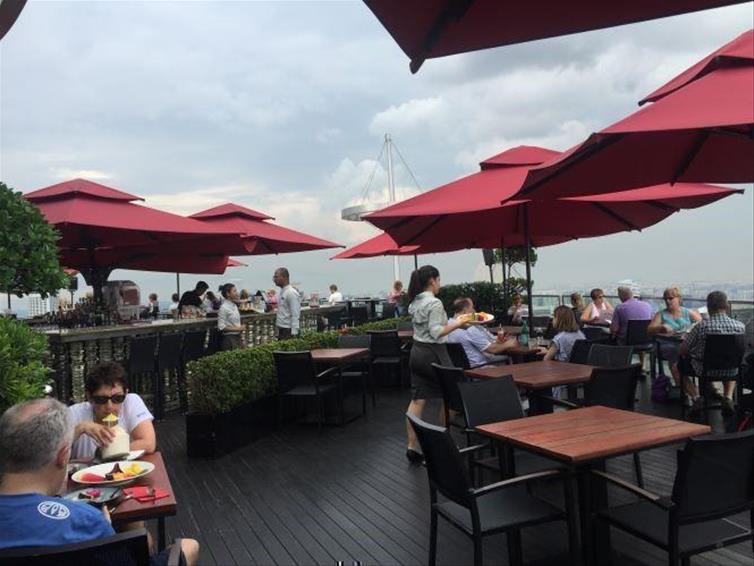 I've been to Singapore a number of time but it's been about 5 years since I have been back. Singapore has traditionally been a 2-3 nights stopover for Australians travelling to Europe, but it has really come into its own as a holiday destination, and I can see more and more people spending 5 to 7 nights, as there is so much to do.
We jam packed our itinerary and here is a little review with the top 10 things we did:
Day 1: Arrival
Today we arrived in Singapore after our direct Qantas flight from Brisbane and transferred to the Park Hotel at Clarke/Robertson Quay. A quality 4-star hotel in a great location. The rooms were a bit on the small size, but we didn't spend much time in there as they had a great pool/bar area for us to sit and relax.
We went for a walk along Robertson Quay, where there is a huge selection of restaurants on offer. We chose Super Loco, which was a Mexican fusion restaurant with excellent food, and quite well priced. The chorizo & braised beef tacos were a real hit.
Day 2
This morning we started with a Wok & Stroll Breakfast Tour through the wet markets in Little India. After a sumptuous local breakfast, we wandered through the markets checking out all the local fruit and produce. I did notice a lack of apples and oranges, but there were plenty of durian and dragon fruit and starfruit in season. This is absolutely something for the foodies out there. They then tried to feed us lunch but were still full from breakfast. Give the ginger tea or fresh lime juice a try. You won't be disappointed.
This afternoon, we headed to one of Singapore's newest attractions – Gardens by the Bay. The gardens consist of 2 extremely large domes. One dome has plants from all over the world on all different levels & temperatures, all in the same dome. It's very clever how they get desert and tropical plants to grow in the same dome. The second dome features a large waterfall, and the climate is set to make you feel like you are 2000 feet above sea level, again very clever. Outside the domes are 12 large 'supertrees', that come alive at night with an exhilarating display of light and sound.
I would highly recommend spending the afternoon at the gardens and waiting for the night spectacular to begin. One of the 'supertrees' has a small restaurant and bar at the top, which is a fantastic vantage point to relax with a cocktail and enjoy the light spectacular.
We finished the night off with some of the best satay sticks with peanut sauce in the world.
Day 3
Today we headed down to Sentosa to check out some of the new attractions that have sprung up in the past few years. We started with the gliding to Sentosa on the Cable car, then did a spot of adventure with Zip Lining, The Luge Ride, and the 4D cinema experience.
A few of the more sedate attractions included Madam Tussauds and the Butterfly Park. After a quick stop for some of the best fresh pineapple on earth, we headed to Tanjong Beach Club for a spot of lunch. What a great place to spend an afternoon eating & swimming over a few cocktails.
This evening, we had dinner at Porta restaurant – modern European cuisine. I had the best pork I have ever tasted. If you enjoy your pork, give the Iberian Pork Secreto a try… you won't be disappointed.
Day 4 We spent the morning checking out some of the stunning hotels in Singapore.
• The Swissotel Hotel • The Fairmont Hotel • The Fullerton Hotel • The Mandarin Orchard hotel
All hotels are rated 5 stars and are in fantastic locations. You would not be disappointed if you stay in any of these hotels.
After a few hours to cool off in the hotel pool, we headed off to the Skypark at Marina Bay Sands hotel. The views from the Skypark are sensational; best in Singapore. You can grab a refreshing cocktail and whittle the afternoon away. Ah, this is the life!
Sadly, it was then time to pack up and head to the airport for our flight home. A huge thank you to the Singapore Tourism for looking after us whilst we were in Singapore.
Flight review: Qantas Brisbane – Singapore A great flight on the flying kangaroo. The meal service was fast and efficient. Lunch & snack and wine were all tasty. They and some great new release movies on offer to keep me amused for our 8-hour flight. Still one of my favourite airlines to fly!
Singapore Airlines - Singapore – Brisbane Lucky enough to fly home on the brand new A350 aircraft. I couldn't believe how quiet this aircraft is. The whisper quiet engines made for a good night sleep. The dinner & breakfast and entertainment were great, which is standard to this fantastic airline.
Top 10 Highlights 1. Wok & Stroll Breakfast Tour 2. Indian Heritage Centre 3. Gardens by the Bay 4. Indochine Supertree - Afternoon drinks 5. Clarke Quay 6. Ziplining 7. Luge Ride 8. Sky park @Marina Bay Sands 9. The Dutch Colony Coffee Co. 10. Super Loco Restaurant – Robertson Quay