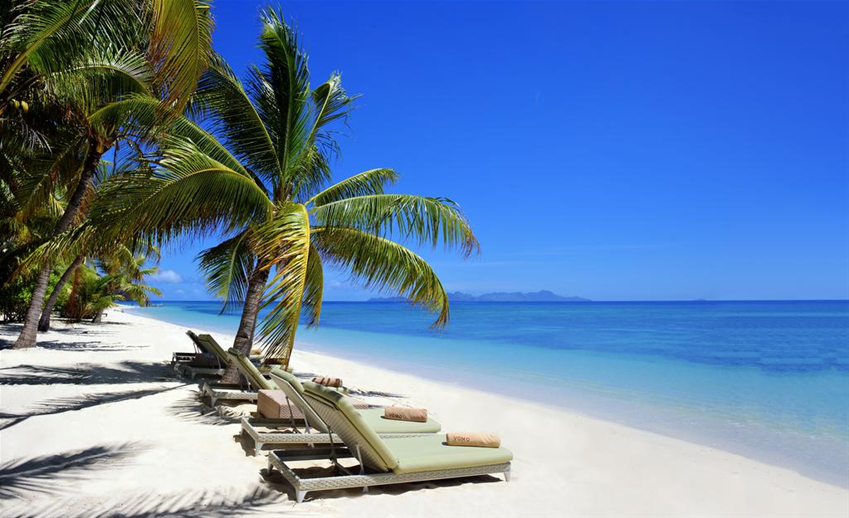 PRIVATE. PRISTINE. PERFECT. THE ISLAND THAT HAS IT ALL.
VOMO is a stunning privately owned 87 hectare (225 acre) island located in the Mamanuca Island group of Fiji, on the cusp of the Yasawa Islands. A breathtaking location. Private. Pristine. Perfect. A luxury all inclusive resort.
The Vomo Islands are made up of VOMO and the tiny island of Vomo Lailai. VOMO offers the only island resort on these stunning islands and is one of the most luxurious resorts in Fiji. As one of the largest and most beautiful islands in Fiji, VOMO is never crowded. It is fringed with long white sand beaches on both sides of the island, plus several other small beaches, enabling you to always find your own little spot in paradise. Mt Vomo rises on the eastern side of the island and provides a spectacular 360 degree view to those who wish to conquer it. Tip…go early and catch the sunrise.
VOMO offers a remote and stunning island experience just 15 minutes helicopter ride from Nadi International Airport or less than an hour by car transfer from the airport, connecting to a speedboat transfer from Vuda Marina. Fiji is one of the South Pacific's most exciting destinations and our island resort is one of the most luxurious and chic in an enviable location. Getting to the island is part of your holiday adventure and whether you arrive by air or by sea, the journey to reach our island resort will start your holiday in style. Despite often being referred to as the most beautiful island in the Mamanuca group, VOMO knows that to keep the natural beauty of the island alive for current and future generations, it must look after and protect its environment.
Busy lives mean we forget to afford ourselves simple pleasures. Whether you prefer swinging in a hammock or submerging yourself in the spectacular underwater world that surrounds VOMO, there is always something to place an energetic smile on your face.
Non motorised water activities including snorkelling are included in the daily rates. The snorkelling around VOMO is exceptional and can be accessed directly from the beach. Guests may also join the daily escorted snorkel safari with qualified instructors and visit numerous great sites near to our two islands of VOMO and Vomo Lailai. The beaches are protected by an outer reef, making it a great environment for swimming or snorkelling throughout the day.
Complimentary Water Sports @ VOMO include… Stand Up Paddle Boards (SUP's) Single and double kayaks Hobie Cat sailing Windsurfing Snorkelling equipment and snorkel safaris
VOMO is a proud member of the Mamanuca Environment Society (MES), an organisation founded in 2001 to protect the stunning marine environment of the Mamanuca Islands in Fiji.
Along with other key stakeholders in the region, we are committed to the promotion of environmental awareness and to protect the marine and terrestrial resources in the area. To support this cause worthy initiative, a nominal fee of FJ$5 will be added to the room charge per stay. It is entirely voluntary and the fee may be removed if guests choose not to participate.
'MES remains forever grateful for the generosity of our sponsors'
VOMO is committed to reducing our human footprint and has implemented some steps towards making VOMO single-use plastic free. We started small by eradicating the use of plastic straws on island and replacing with paper ones. The next phase was the introduction of our own bottling plant on VOMO. We opened an automated bottling plant that provides guests with purified drinking water in sealed reusable glass bottles. We have also commissioned our own scented soaps and lotions and will be providing these in guest villas in beautiful ceramic dispensers, allowing us to do away with the small single use plastic bottles that hotels currently use. These are significant steps towards ensuring VOMO stays committed to our stated cause to care for our environment, so that generations to come can enjoy this pristine environment we call home