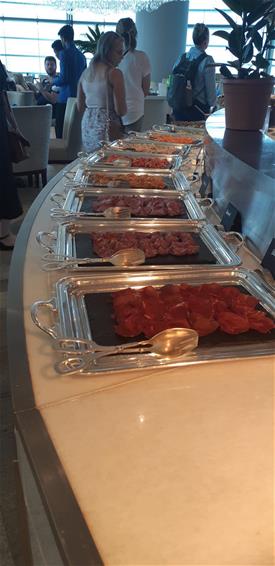 Wow what a great trip. Flew direct from Brisbane to Abu Dhabi on Etihad. Great flight with a wide range of movies, games and information channels. The food was great and plentiful. Seeing as I can never sleep on flights I got to watch 5 of the new release movies to keep me amused.
Arrived in Abu Dhabi and we met our guide from Orient Tours Rashu and he was so helpful and nothing was too much trouble for him. He was a very safe driver and kept the bottles of water cold for us on each of our trips. I went on this trip with 9 other people and a tour leader. We arrived and headed straight to the Carlton-Ritz to check in and drop the baggage and then off to the Yellow boat Corniche tour. This shows you a view from the ocean side of Abu Dhabi and is stunning. It was a bit hazy however it was such a great tour. The tour guide on the boat was very informative and stated a lot of facts however not in an overload way. This tour was about 1 hour long.
Next we went to the Founders Memorial. This is an guided tour through a unique cultural attraction that celebrates the life and values of Sheikh Zayed. Was a wonderful guided tour learning what plants were grown and the reason behind the planting. It showed the compassion and legacy of Sheikh Zayed and is well worth the visit. Takes about 1 hour and I would recommend you take an umbrella if during summer as can get a bit hot out in the open.
Next for the day was a visit to the Rosewood Hotel where we did a site inspection and then we had the famous Friday Brunch. This hotel is fabulous. Very central location and situated on the waterfront on Al Maryah Island.
The Friday brunch starts at 1.00pm and continues till 4.00pm and is one of the best food experiences you can have. It ranges from a huge international buffet including all your favourites, seafood, salads, vegetables etc. Then it extends into high-end a la carte cuisine, there is something for everyone and a huge range of tastes. There was a meat area where you chose the meat you wanted whether it be steak - several different cuts or ribs and then they cook it fresh for you. There is also a seafood area where you can pick from fish, lobster, prawns etc and again cooked on the B_B_Q in front of you. There was Italian, Chinese, Indian, Lebanese and the list goes on and on. But wait there's more - after all this you then go to the dessert room and select from a range of about 30 different desserts. During all this time depending on the package you have purchased you also get drinks and these range from soft drinks right through to spirits and champagne. You really need to pace yourself during this experience so you can get through it all or at least 50% of it.
After that it was back to the hotel for a quiet night and catch up on sleep missed from the flight.
There is more to the story! Take a look at my blog, Abu Dhabi Part 2...