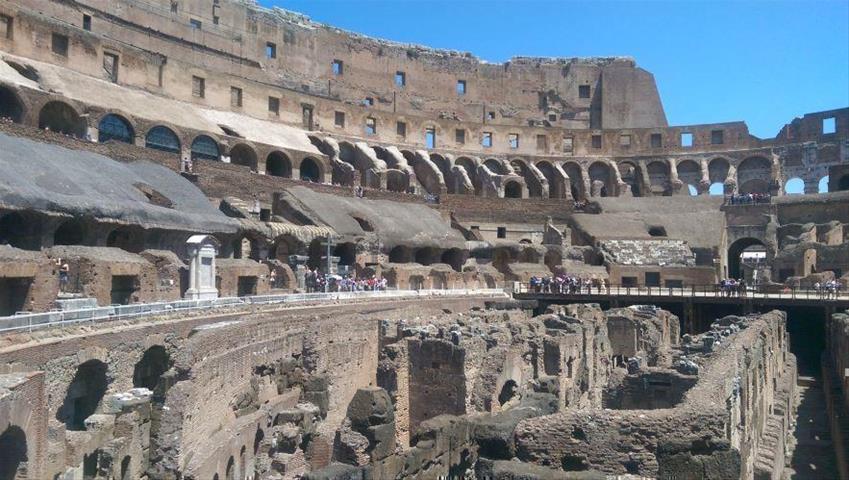 Even after the many years of travelling, the hundreds of flights I've taken and the copious amounts of airports I've been in, nothing makes me feel happier than getting off the plane and arriving at my intended destination. Usually, with a big sigh of relief when I grab my bags and exit. However, we made it to Roma, but our bags weren't so lucky…due to an unplanned detour through Moscow, they decided to stay and see the sights of the Kremlin (I mean come on, we only had to push through the customs line and run through 4 terminals at the airport, with barely a minute to spare before boarding the flight out!). Not the best start, but having given our details to the airline services we hightailed it out of the fluorescent lights and stale air of the airport and onto the streets. Following an uneventful cab ride we made our way into the city of Rome, capital of Italy…a long dreamed of destination that had me thinking of pasta and wine; art and history … and wine; culture, sexy men … and have I mentioned wine?? But I digress. Feeling grotty, disgusting and sleep deprived, our host showed us into our cosy apartment that we would call home for the next 5 days and we started to relax. I was also feeling very grateful for my preparedness for long haul flying as I was armed with my toothbrush, toothpaste and all the little travel essentials to ensure I could strip away all the grime of the previous 30+ hours of travel.
Awakening in the morning, feeling surprisingly refreshed, we decided to go and get some basics to make the day more bearable when all you are wearing is warm clothes designed for winter weather and you've just arrived into 39-degree heat.
Now, when I first booked us in to our little place, I started second guessing my decision to stay for 5 whole days and 6 nights, I mean that is a fair chunk out of the 14 days we had in Italy. But after stepping out onto the cobbled streets and walking in to the city centre, I wasn't sure it would be enough just for the capital. What a delight! So many restaurants, designer shops, and not to mention the historic places we just stumbled across through our directionless ambling. We had a great time meandering around the streets, getting lost and then discovering these places I'd been wanting to see forever. Having picked up a map, and armed with my notebook of places and sights that I'd planned on seeing, off we set.
Jumping on the open top bus tour, we did a loop and from that point it was a whirlwind of history, ancient ruins and sights that I'd been longing to see since first sitting in the classroom…oh who am I kidding, I was totally thinking of Gladiator the whole time I was at the Colosseum! But there is a lot to cram in, St Peter's Basilica and Sistine Chapel, the Colosseum, the Pantheon and all these little artisan shops lining the laneways displaying Italian crafted leather goods. Roma, you were a great introduction to the little boot that is Italy. Next stop, Naples.